Send Inquiry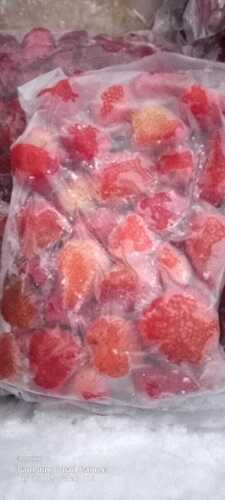 Price And Quantity
150 INR/Kilograms

100 Kilograms
Trade Information
100 Kilograms Per Day

7 Days

All India
Product Description
Strawberries that have been collected at the height of ripeness and then frozen to maintain their freshness, flavour, and nutritional value are known as frozen strawberries. They are a well-liked frozen fruit alternative that offers variety and convenience in a range of culinary applications.
Strawberries are normally cleaned, hulled (the green stem is removed), and then arranged in a single layer on a baking sheet or pan in order to freeze. The strawberries are allowed to freeze separately while the tray is in the freezer. When the strawberries are frozen, they are moved to freezer bags or airtight containers for long-term preservation.
There are various advantages to frozen strawberries. First of all, since they are offered all year long, you can indulge in strawberries even when they are not in season.
They are a practical option to have on hand for smoothies, desserts, and other recipes because they have a longer shelf life than fresh strawberries.
Many different things can be done with frozen strawberries. Here are a few illustrations:
1. Smoothies: For a cool and fruity twist, add frozen strawberries to your favourite smoothie recipes. The smoothie is made colder and has a thick, frosty texture thanks to the frozen berries.
2. Desserts: To prepare fruit compotes, sauces, or toppings for ice cream, yoghurt, or pancakes, use frozen strawberries. They can also be used in cakes, muffins, pies, tarts, cobblers, and other baked foods.
3. Blended treats: To make an easy and delectable strawberry "nice cream" or sorbet, blend frozen strawberries with a small amount of liquid, such as milk or yoghurt. If desired, sweeteners like sugar or honey can be added.
4. Drop a few frozen strawberries into your water or beverages to infuse them with natural flavour and a touch of sweetness. The berries' liquids will gradually thaw out and release, improving the flavour of your beverage.
Strawberries from the freezer don't need to be thawed before using them in recipes. Before using them, you can, however, let them thaw for a few minutes if you want a softer texture.
When fresh strawberries are in season, you can freeze them at home to enjoy them all year long. Frozen strawberries are widely accessible at grocery stores. They are a flexible and practical element that enables you to take use of the flavour and advantages of strawberries whenever you want.
FAQ
1. How do frozen strawberries work?
Ans - Strawberries that have been quickly frozen to maintain their natural flavour and texture are known as frozen strawberries.
2. Where can I buy strawberries that are frozen?
Ans - You can get frozen strawberries online, at most major supermarkets and at specialty shops.
3. How long can I store strawberries that have been frozen in the freezer?
Ans - In a sealed container or bag, frozen strawberries can often stay fresh for up to a year.
4. How should frozen strawberries be thawed?
Ans - You may easily thaw frozen strawberries in a dish of cold water or in the refrigerator.
5. Are frozen strawberries just as nutrient-dense as their fresh counterparts?
Ans - Yes, frozen strawberries are just as nutrient-dense as fresh ones. For longer storage, the nutritional value is preserved through rapid freezing.
Enter Buying Requirement Details
Other Products in 'Dried Fruits' category