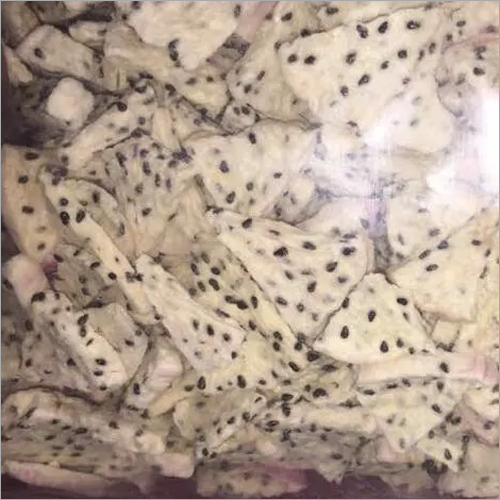 Dried Dragon Fruit Price And Quantity
1250 INR/Kilograms

50 Kilograms
Dried Dragon Fruit Product Specifications
A

Other

As per requirement Kilograms (kg)

Dried

Organic
Dried Dragon Fruit Trade Information
400 Kilograms Per Day

1 Days

All India
Product Description
When a fruit is described as being "dried," it means that it has gone through a drying process to eliminate its moisture content, leaving behind a preserved and concentrated version of the fruit. Pitaya, another name for dragon fruit, is a tropical fruit with a colourful look and a subtly sweet taste.
Dragon fruit must be carefully chosen to be ripe and mature before drying. Usually, the fruits are cleaned, peeled, and cut into a few pieces or thin slices. The moisture is subsequently removed from the dragon fruit pieces by using a dehydrator, an oven, or sun drying.
To hasten the drying process, dehydrators and ovens provide controlled heat and airflow. On trays, the dragon fruit slices are dried at a low temperature for several hours, or until they are crisp and dry. The fruit pieces are exposed to direct sunshine in a well-ventilated place for a number of days until they are the optimum amount of dryness.
Dragon fruit acquires a chewy and slightly crunchy texture after drying. The brilliant pink or white flesh of fresh dragon fruit frequently turns to a darker tint during the drying process, so the colour of dried dragon fruit may vary depending on the variety.
The flavour of dried dragon fruit may become more intense as a result of the moisture being removed, but it still mostly retains its natural sweetness and a mild tanginess. It can be used as a convenient and healthy snack on its own or in trail mixes with other dried fruits, nuts, and seeds.
Additionally, dried dragon fruit is a flexible component that works well in a variety of recipes. It can be used to lend a distinctive burst of colour and flavour to baked items like cookies, cakes, and bread. It can be used as a topping for yoghurt or cereal, added to smoothies, granola bars, or rehydrated by soaking in water or other liquids.
Dried dragon fruit has a longer shelf life than fresh dragon fruit, which is one of its advantages. Dried dragon fruit can be kept for months if it is kept in an airtight container and kept in a cold, dry location.
Dried dragon fruit is available at specialty shops, health food stores and online retailers, though it may not be as widely accessible as fresh dragon fruit. It provides a practical and distinctive approach to take use of the flavours and health advantages of dragon fruit, even when it is out of season or difficult to find in your area.
FAQ
1. What exactly are dried dragon fruits?
Ans - A tropical fruit that is indigenous to Central and South America, the dragon fruit is used to make dried dragon fruit. It can be used in a number of recipes and has a sweet and sour flavour.
2. How nutrient-dense are dried dragon fruits?
Ans - A good source of dietary fibre and vitamin C is dried dragon fruit. Other vitamins and minerals including calcium, iron, and potassium are also present.
3. How can I cook using dried dragon fruit?
Ans - You may flavour smoothies, desserts, yoghurt, cereal, and salads with dried dragon fruit. Additionally, it can be used as a garnish on salads or as a component of trail mixes, muesli, granola bars, and other snacks.
4. How ought dried dragon fruit to be kept?
Ans - A cold, dry location is recommended for the airtight storage of dried dragon fruit. It lasts up to six months in the refrigerator.
5. Can vegans consume dried dragon fruit?
Ans - Dried dragon fruit is acceptable in vegan diets, yes.
Enter Buying Requirement Details
Other Products in 'Dried Fruits' category