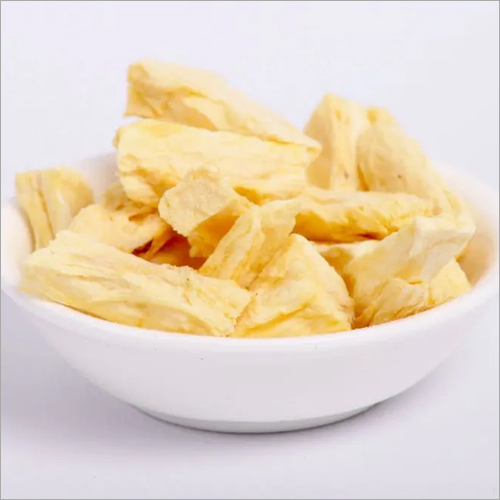 Freeze Dried Jackfruit Price And Quantity
50 Kilograms

1250 INR/Kilograms
Freeze Dried Jackfruit Product Specifications
As per requirement Kilograms (kg)

A

Other

India

Organic

Dried
Freeze Dried Jackfruit Trade Information
400 Kilograms Per Day

1 Days

All India
Product Description
Jackfruit that has been freeze-dried to reduce its moisture content while retaining its flavour, texture, and nutritional value is referred to as "freeze-dried jackfruit." A tropical fruit called jackfruit is renowned for its enormous size and distinctive flavour.
Ripe jackfruit is normally picked, prepped, and then the edible flesh is divided into smaller pieces or slices to create freeze-dried jackfruit. Then, at extremely low temperatures, these parts are frozen. In a vacuum chamber with low pressure, frozen jackfruit is put.
The frozen water in the jackfruit sublimates in the vacuum chamber, going straight from a solid state (ice) to a gas (water vapour) without first going through the liquid state. The fruit's structure and nutrients are preserved as the moisture is removed by this method.
The resulting jackfruit that has been freeze-dried is airy, crunchy, and has a long shelf life. The majority of its original flavour, taste, and nutritional value are still present. When exposed to moisture, freeze-dried jackfruit readily rehydrates and is frequently described as having an airy and crisp texture.
Jackfruit that has been freeze-dried makes for a tasty and practical snack.
It offers a distinctive and exotic flavour sensation. It can also be applied in a variety of culinary contexts:
Trail Mixes: For a sweet and exotic flavour, combine freeze-dried jackfruit with nuts, seeds, and other dried fruits in trail mix recipes.
Cereal & Granola: To provide a flavorful kick and a crunchy texture, sprinkle freeze-dried jackfruit over cereal or granola.
Baking: Add freeze-dried jackfruit to baked items like energy bars, muffins, or cookies. It can be powdered or crushed and added to recipes as a flavouring or natural colouring.
Smoothies & Shakes: To intensify the tropical flavour and add a special twist, blend freeze-dried jackfruit into smoothies or shakes.
Desserts: Top ice cream, yoghurt, or puddings with freeze-dried jackfruit. It can also be dehydrated and used to make homemade sorbets, fruit tarts, fruit salads, and ice cream.
Regardless of the season, freeze-dried jackfruit offers an easy way to always enjoy the flavour and health benefits of jackfruit. It is portable, simple to store, and rehydratable if a softer texture is preferred.
Enter Buying Requirement Details
Other Products in 'Dried Fruits' category